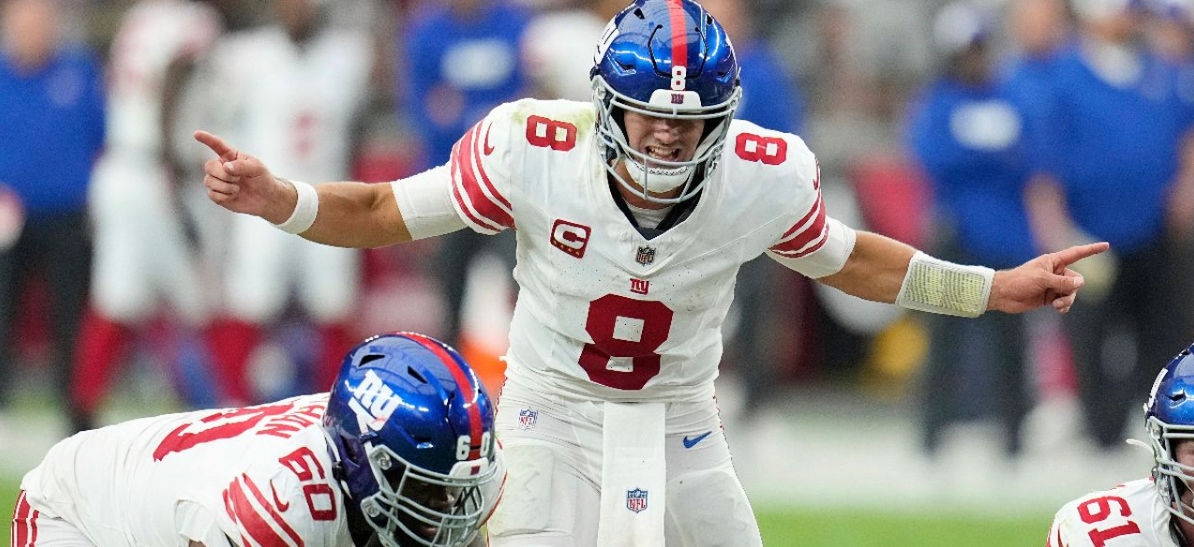 Brock Purdy Under 20.5 Comp (-140 DK)
This prop has a little juice but it's going to be worth it. This obviously is a short week, and the 49ers are going to be potentially missing their top receiver in Aiyuk who has a shoulder injury. I don't expect him to play and if he does, he should be a decoy as it's not worth risking further damage. With that being said, this game has a spread of 10.5 in favor of the 49ers, in which I expect them to lean on the run more often this week, which is also similar to how they've run their offense thus far. They are 4th in rush rate at 48% and 25th in pass rate over expectation (-5%). They are not a fast-paced team either as they have run no huddle 2.5% of the time, which is 4th fewest. Teams have run well on the Giants who are allowing the 7th most rushing yards per game, similar to their previous season in which they allowed the 6th most per game. The Giants have struggled to get pressure on the quarterback even with a high blitz rate as well and this points to the 49ers getting up in this game early and controlling the clock. But something that's interesting is how the 49ers neutral playclock is 7.32 seconds, which points to being one of the slower teams in the league (likes to chew clock). It is hard to tell what pace the Giants will play at as they've been down big in both games (mounting a comeback in second half of week 2, but not week 1. Neutral playclock were opposite comparing those two weeks), so if we look at last season it was at 10.68, which leans towards the faster side of things. With the Giants missing Barkley, I expect the Giants to look to look for quick hitters and lean on Daniel Jones legs to extend drives, which will presumably kill clock. The best defense to stop a potent offense is to keep them off the field, but the Giants offense trying to pull that off against the 49ers elite defense is going to be tough and a short week may benefit them. The 49ers do not ask a lot of Purdy as they have so many weapons to utilize and with the efficiency they have, he can coast in the second half. In fact, he has not gone over this line in not only either game this season, but he has gone under in 2 of 8 games last season (where he played at least 50% of the snaps). Those two overs were games where he had 35 and 37 pass attempts which are career highs for a guy who averages 27 attempts per game within those 10 healthy games. The 35 attempts game went into overtime and the 37-attempt game was nothing but quick throws underneath 5.2 which proves that theory. Teams are averaging the 11th highest aDOT vs the Giants so far this year at 8.6, similar to last season of 8.9 when they allowed the 6th highest. The difference between this year and last year is they can't get pressure on the quarterback. To summarize, expect heavy run game to chew clock along with an efficient showing on offense clicking.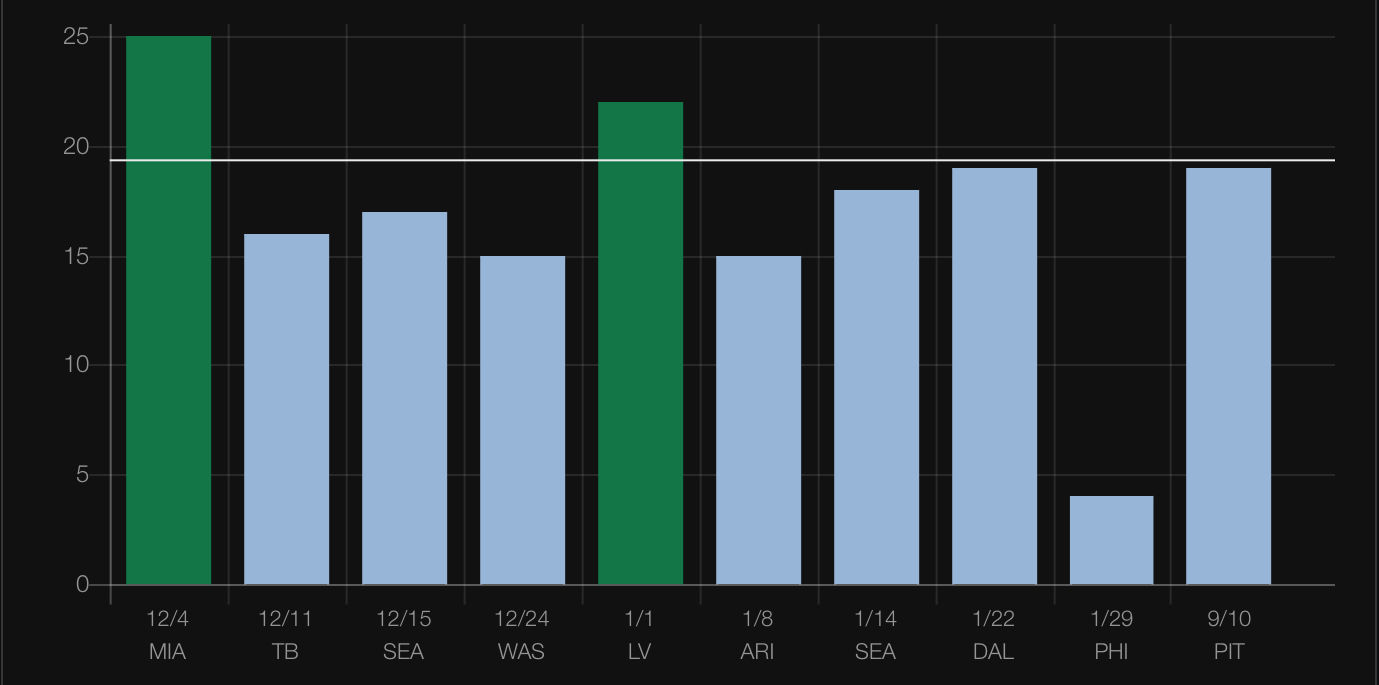 Daniel Jones Over 19.5 Comp (CZR -135)
With questions around the Giants weapons in a game without Saquon Barkley make choosing a skills player prop tough, so we are sticking with the quarterback in Daniel Jones to lead the way. He had a huge contract extension over the offseason and will need to prove his worth tonight. In week 1, everything that could go wrong on offense went wrong essentially as they were completely dominated by arguably the best defense in the league in the Cowboys. Last season the wide receiver core was decimated with injuries, but looking at quarterbacks who played a minimum of 8 games (36 qualified) he still managed to have the 6th highest completion percentage. But with high percentage throwers, they typically come in the form of higher percentage throws underneath, hence his dead last aDOT of 6.4. So far through two games he is 17th in aDOT at 7.9. The 49ers do a very good job of getting pressure on the quarterback, while playing a lot of Cover-3 and Cover-4. On the season the 49ers have the 5th highest pressure rate so far and against pressure, Daniel Jones has the 2nd lowest aDOT in the league this season and last season was 3rd lowest. Something that is very helpful is the addition of Wan'Dale Robinson coming back from injury as he was a go to target when jones was under pressure for low aDOT throws last season. Jones has a attempts line of 31.5 that is very juiced for the over right now. When he has thrown at least 30 times, he has gone over his completions in 8 of 10 games dating back to the start of last season. No Barkley and a committee of running backs against one of the best run defense in the league will be tough for the Giants. A way to supplement the run game is to have a lot of quick, low aDOT throws, as they'll want to keep the ball out of the 49ers hands with how bad their defense has been this season. Giants are 13th in plays per game so far and 15th last season. Running a lot of plays and controlling the game is going to be very important. Giants are 11th in shotgun rate on first downs while running a lot of 11 personnel, so their will typically be plenty of receivers on the field. Being in shotgun going against the pass rush the 49ers will bring will be helpful for the quick throws he'll need to make. Through the first two games the Giants are 15th in pass rate over expectation and without Barkley that should increase for a team that is already 8th in pass rate this season. Last thing to note is how the Giants are missing their starting left guard and tackle tonight with injuries, so quick passes will be crucial. Expect the Giants to throw a lot tonight.