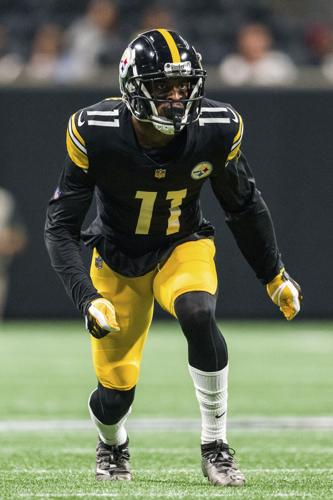 Pick #4: Allen Robinson o2.5 Receptions (-185 FanDuel)
In this NFL betting analysis, we shift our focus to the intriguing matchup between the Cleveland Browns and the Pittsburgh Steelers. Our bet of the day centers on Pittsburgh Steelers' wide receiver Allen Robinson, who we believe will record over 2.5 receptions in this game. Let's delve into the details to understand why Robinson is poised for a standout performance.
In Week 1, Allen Robinson demonstrated his importance to the Pittsburgh Steelers' offensive strategy. He was a significant presence on the field, playing 56 out of 63 snaps, which was tied for the most with fellow wide receiver George Pickens. Robinson also ran 46 out of 52 routes, second only to Pickens. He led the team with 8 targets and recorded 5 receptions, tying for second in that category. 
One crucial factor to consider is that the Steelers' wide receiver Diontae Johnson is sidelined due to a hamstring injury. This absence opens up approximately 5 receptions and 8 or 9 targets per game for other players. While the Steelers have several young and relatively unproven receivers, Allen Robinson stands out as one of the primary pass-catching options.
Robinson's role in the Steelers' offense is expected to be pivotal. He primarily operates from the slot, accounting for an impressive 83% of his snaps in this position during Week 1, which was the second-highest in the NFL. Being the slot receiver means that Robinson is often a top target for Steelers quarterback Kenny Pickett, particularly in quick-passing situations.
The Cleveland Browns are known for their formidable defense, particularly their elite pass rush. Facing such a defensive powerhouse, Steelers' quarterback Kenny Pickett is likely to prioritize quick throws and rely on reliable targets like Allen Robinson. If fellow receiver George Pickens draws the assignment of Denzel Ward, the Browns' best defensive player, Robinson's importance as a primary target could become even more pronounced.
With Diontae Johnson sidelined and the Browns' strong defense to contend with, Allen Robinson is positioned to shine in this matchup. The combination of his prominent role as the slot receiver, his Week 1 performance, and the potential for an increased number of targets make the over 2.5 receptions for Allen Robinson an enticing bet.
Keep an eye on Robinson as he aims to make the most of this opportunity and contribute significantly to the Steelers' offensive efforts against the Cleveland Browns' staunch defense.