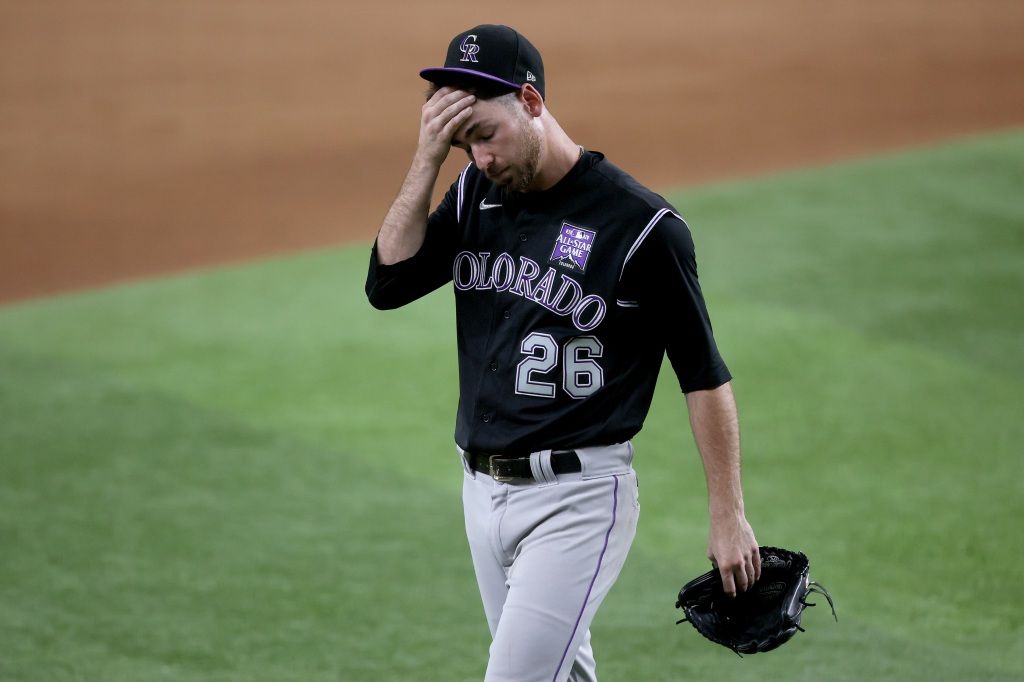 Pick #10: Austin Gomber o1.5 BBs (-125 DraftKings)
With a line of 1.5, I'm all in on Austin Gomber allowing over 1.5 walks as he faces the disciplined Kansas City Royals today.
Austin Gomber, the Colorado Rockies' left-handed pitcher, has been a bit of a roller coaster this season, especially when it comes to his control. Across 11 starts, he's racked up a 7.00 ERA, 1.56 WHIP, and a 34:22 K:BB ratio over 54 innings. While these numbers may not scream "bet on me," they do indicate that Gomber's control issues are worth considering when it comes to betting on walks.
Looking at his recent performances, it's clear that Gomber's control has been slipping. Over his last three starts, he's failed to complete five innings, and his walk rate has been steadily increasing. In fact, he's gone over the 1.5 walks line in seven of his last nine starts. That's not the kind of trend you want to see if you're a Rockies fan, but it's perfect for those looking to cash in on the over for Gomber's bases on balls.
To add to Gomber's struggles, he's going up against a Kansas City Royals team that's been remarkably disciplined at the plate over the past month. During May, the Royals boasted a 10.8% walk rate when facing left-handed pitchers at home, which ranks sixth in the league. Their 0.5 BB/K ratio also lands them in the top ten, sitting pretty at ninth place. This disciplined approach at the plate should only exacerbate Gomber's control issues, making the over 1.5 walks line even more enticing.
Breaking down Gomber's home and away stats further reveals a pretty significant difference in his walk rates. While he's managed to keep his walks relatively in check at home, averaging 1.71 pitching - bases on balls, that number jumps to 2.5 when he's on the road. This disparity, combined with the Royals' disciplined approach against left-handers at home, should have bettors salivating at the chance to cash in on Gomber's control struggles.
As a young, data-driven sports analyst, I love digging into the numbers and finding the trends that can help bettors make informed decisions. In this case, all signs point to Gomber's control issues continuing against the disciplined Kansas City Royals lineup today. With a line of 1.5, I'm confidently taking the over on Austin Gomber's pitching - bases on balls, and I wouldn't be surprised to see him struggle to find the strike zone against this tough Royals lineup.
So, for all my fellow Gen Z and Millennial sports bettors out there, take a good look at Gomber's recent trends and the Royals' disciplined approach at the plate. With this perfect storm brewing, there's a prime opportunity to cash in on Gomber's control struggles and ride the over 1.5 walks line to a nice payday. Just remember, there's no such thing as a "sure thing" in sports betting, but the numbers don't lie, and they're definitely pointing towards Gomber giving up more than 1.5 walks today.