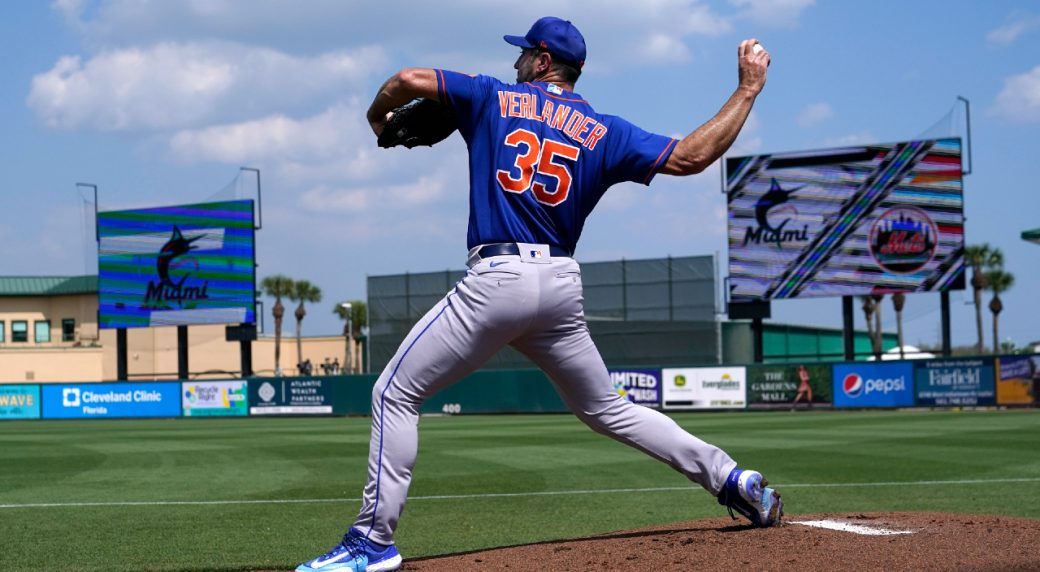 1U Justin Verlander (NYM) under 5.5 strikeouts (+110) available at time of initial post to Twitter. Playable to -120 odds.
In his age-39 season Justin Verlander posted a 1.75 ERA while winning the AL Cy Young award in his final year with the Astros. Houston would go on to win the World Series, but Verlander left in free agency to join the New York Mets on a new $86.6 million contract. While he was spectacular as a whole, Verlander did see his 1.75 ERA shadowed by a 3.23 xFIP, and his K% "fell" to 27.8% from his previous seasons sitting in the mid-30's. Flash forward to now and Verlander has not had the beginning to his tenure in New York he would've hoped for. 
Through 5 starts the veteran right-hander has amassed only an 18.2% K%, recording 22 strikeouts in his 30 innings of work and staying under this 5.5 line in 4/5 starts. That 18.2% mark is a career-low number, as is his 23.4% CSW%. His first pitch strike rate has fallen below 60%, and he is working in the zone at a lower rate overall. Verlander is still able to generate chases, but his chase contact rate allowed is 3.4% higher than league average. Toronto, tonight's opponent, has the 11th lowest chase rate paired with the 3rd highest chase contact rate. His 85.4% zone contact rate allowed is the highest since his rookie season and also 3.4% higher than league average. Verlander's whiff rate sits just 24th percentile, and his swinging strike rate has dipped below 10% with 3 consecutive starts posting a 9.2% or lower SwStr%. Toronto's 9.7% swinging strike rate ranks as the 5th lowest mark in baseball.
Verlander sees a decrease in his K% when facing batters of the same handedness. Toronto is likely to send out 6 RHB in today's lineup. His 4-seamer, slider, and curveball make up his repertoire. Verlander's 4-seamer has seen a drop in velocity this season while his slider has seen an 11.1% decrease in put away rate and an 8.9% decrease in whiff rate. His curveball is also being hit far harder than previous seasons while seeing decreases in strikeout production as well. Toronto has the 10th lowest K% against curveballs, the 9th lowest against 4-seamers, and the absolute lowest sliders. Not only are Verlander's strikeout numbers down, but he has also been hit around. The future hall-of-famer ranks just 30th percentile in average exit velocity, 41st percentile in barrel rate, and his 4.80 ERA is shadowed by a 4.59 FIP and 4.65 xFIP.
Weather may play a role in today's game with "scattered showers and a chance for a delay" according to Kevin Roth (@KevinRothWx on Twitter.) Forecasts change, but the added element of a possible early exit provides this play with even more value. At plus money this was something I had to play, and I would give this prop consideration down to around -120 odds.
*If you are placing this bet at FanDuel, save a step by clicking the link below. It will put Justin Verlander U5.5 strikeouts directly into your betslip on the app!*