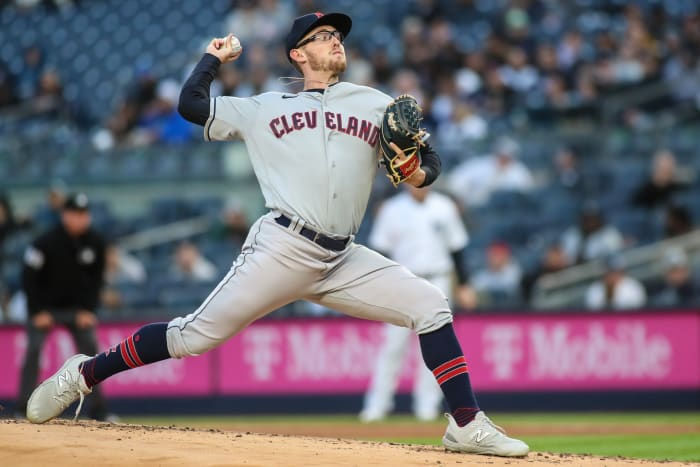 1U Tanner Bibee (CLE) over 5.5 strikeouts (-120) available at DraftKings sportsbook at time of initial post to Twitter. Available at better odds now following lineup release.
I will start with the concerns this play has. Tanner Bibee is a young pitcher making only his 7th start at the MLB level. With that lack of experience comes increased variance and it is inevitable that Bibee will struggle at times this season. Today will be his first start on 4 days rest at this level which provides another layer of uncertainty. After lineups dropped this line moved against me. Michael Taylor instead of Willi Castro in the lineup and Joey Gallo batting 7th and not 1st are likely reasons. That being said, the pros outweigh the cons in my eyes, and I am more than willing to invest in the talented rookie right-hander. 
Bibee has covered this 5.5 line in only 3 of his 6 starts, but he is coming off his best outing at this level. 9 strikeouts to only 1 walk across 6 innings of 1-run ball against a potent Cardinals lineup that rarely strikes out in volume was certainly noteworthy. Bibee used both his slider and changeup in that outing more than his season average and was able to draw 3 strikeouts on both of those pitches (with 3 more on his 4-seamer.) His slider has been lethal this season, holding opponents to a .170 wOBA and 36.9% whiff rate. The changeup has seen 18.64% usage in the last 3 starts after only 7.6% usage in the first 3 starts. This is huge as his changeup has also been an excellent secondary offering, holding opponents to a .144 wOBA and 45% whiff rate. With his 95 MPH fastball able to elevate in the zone, Bibee has 3 pitches he can utilize in 2-strike counts which keeps batters off balance and guessing. While 4 days may cause a slight alteration (I hope not), Bibee's workload has been fantastic with 98, 99, and 98 pitches in his last 3 outings, and 91 or more in 5 of the 6 starts. Cleveland also used 5 bullpen arms used last night. Emmanuel Clase and Sam Hentges would both be pitching their 3rd straight games with an appearance tonight while Enyel De Los Santos and Trevor Stephan would make their 3rd appearance in 4 nights. With no days off until Monday, Cleveland should look to get full length out of their rookie.
Today's matchup is the Minnesota Twins. Minnesota is a free-swinging lineup that is not afraid to whiff. The Twins rank dead last in baseball with a 26.5% strikeout rate against right-handed pitching this season. When looking solely at data from May that rate increases to 28.3%. Minnesota ranks just 28th in zone contact rate this season while posting a league-worst 12.7% swinging strike rate. Bibee lives inside the zone 1.4% more than league average while holding opponents to a zone contact rate of only 76.6%, a mark 5.4% better than league average. Minnesota also struggles to make contact against each of Bibee's 3 main pitches. They rank 30th in K% against both the 4-seamer (26.7%) and slider (33.9%) while 28th (27.1%) against the changeup. Bibee will face 4 left-handed bats and actually had a higher strikeout rate against LHB through 6 starts (26.5% to 23.5% vs RHB.) Overall, 8 of the 9 batters have a strikeout rate of 22.9% or higher against right-handed pitching this season. Only Max Kepler is below 20% and even he is batting from the left side. Minnesota thrives off drawing walks and hitting home runs, but Bibee ranks 73rd percentile with a 6.6% BB% and 85th percentile with a 4.4%-barrel rate. His 3.02 FIP and 2.85 xERA support his 2.99 ERA, and he should pitch well enough tonight to face the necessary number of batters needed to clear this mark. 
*If you are placing this bet at FanDuel, save a step by clicking the link below. It will put Tanner Bibee O5.5 strikeouts directly into your betslip on the app!*