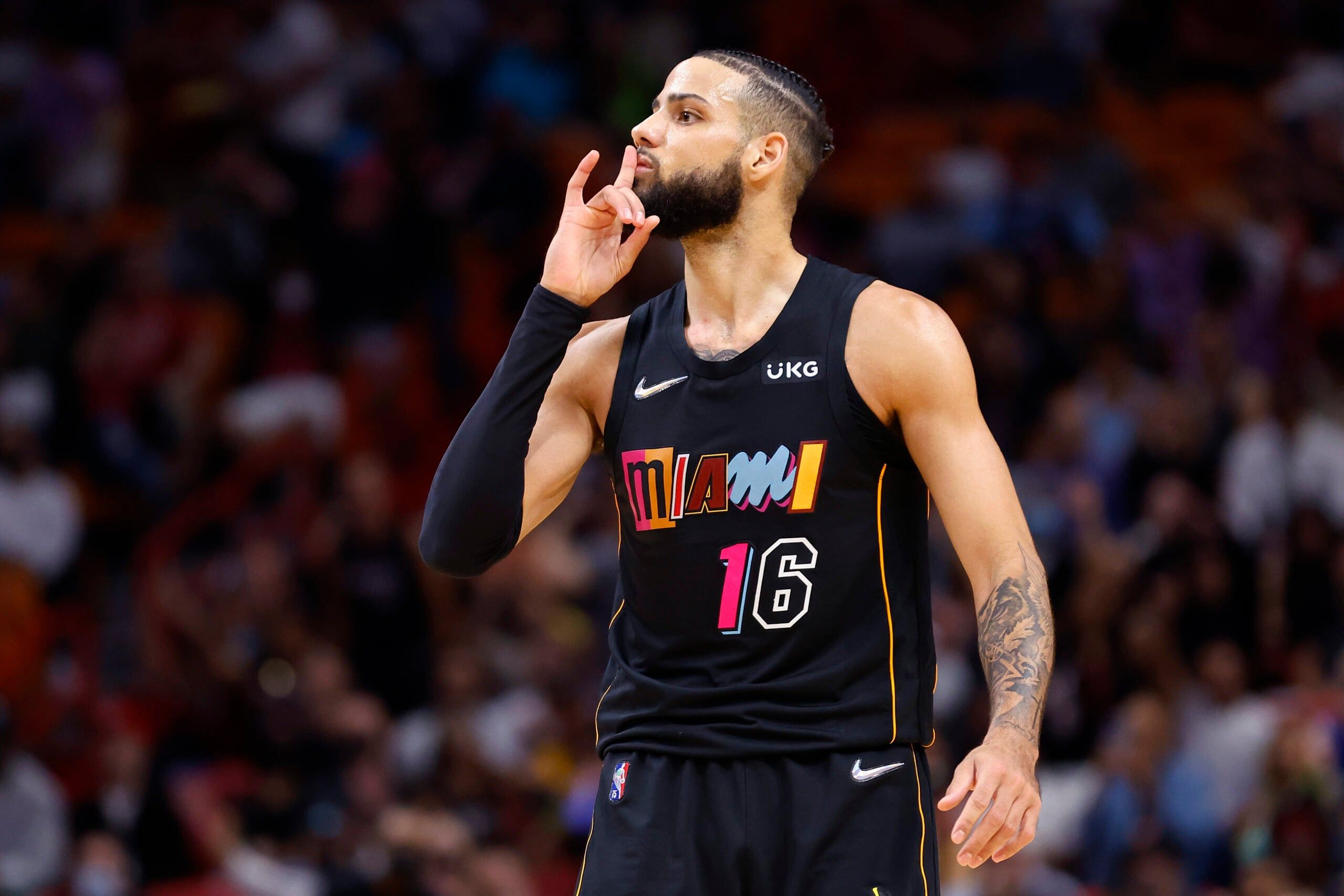 As the Miami Heat face off against the Denver Nuggets in Game 1 of the 2023 NBA Finals, Caleb Martin's recent hot streak makes the over on 15.5 points a solid choice. 
If it ain't broke don't fix it. The Miami Heat's journey to the NBA Finals has been full of surprises, and one of the most pleasant ones has been Caleb Martin's outstanding play, particularly in the Eastern Conference Finals. With his numbers steadily rising, it's time to take a closer look at why betting the over on 15.5 points for Martin in Game 1 makes a lot of sense. 
Throughout the regular season, Martin averaged a solid 10.36 points per game. However, as the Heat hit their stride in the playoffs, so did Martin. Over the last 20 games, his average jumped to 13.0 points per game, with more than 15.5 points scored in 6 of those games. This upward trend continued over the last 10 games, where Martin's average skyrocketed to 16.4 points per game, hitting the over on 15.5 points in 5 of those matchups. And in the last 5 games, Martin's scoring average reached a scorching 19.0 points per game, with 4 out of 5 games seeing him score more than 15.5 points. 
With his recent big numbers and upward trend, it's clear that Martin has found his groove and is contributing more than ever to the Heat's success. During the Eastern Conference Finals, Martin's impact was undeniable. In a heartbreaking Game 6 loss, he put up 21 points and grabbed 12 rebounds. In the decisive Game 7, he followed that up with an equally impressive 26 points and 10 rebounds. Every time the Celtics tried to go on a run, Martin was right there to answer back.
Martin's role in the Heat's success can't be ignored. Another factor to consider when betting the over on 15.5 points for Martin in Game 1 is his road game performance. Throughout the season, Martin's numbers on the road have been higher than his home game averages, with 11.09 points per game on the road compared to 9.62 points per game at home. With the series starting in Denver, combined with his recent upward scoring trends, this bodes well for Martin's scoring potential. 
Taking into account Martin's hot streak and recent performances, along with his road game success, betting the over on 15.5 points for Caleb Martin in Game 1 of the NBA Finals is a solid play. The numbers don't lie.  As the Miami Heat take on the Denver Nuggets in this unexpected Finals matchup, keep an eye on my boy Caleb Martin to continue making a significant impact on the court. Let's lock this in and CASH OUT!
Pick: Caleb Martin Over 15.5 Points (-120)
JP👊🏾🤑