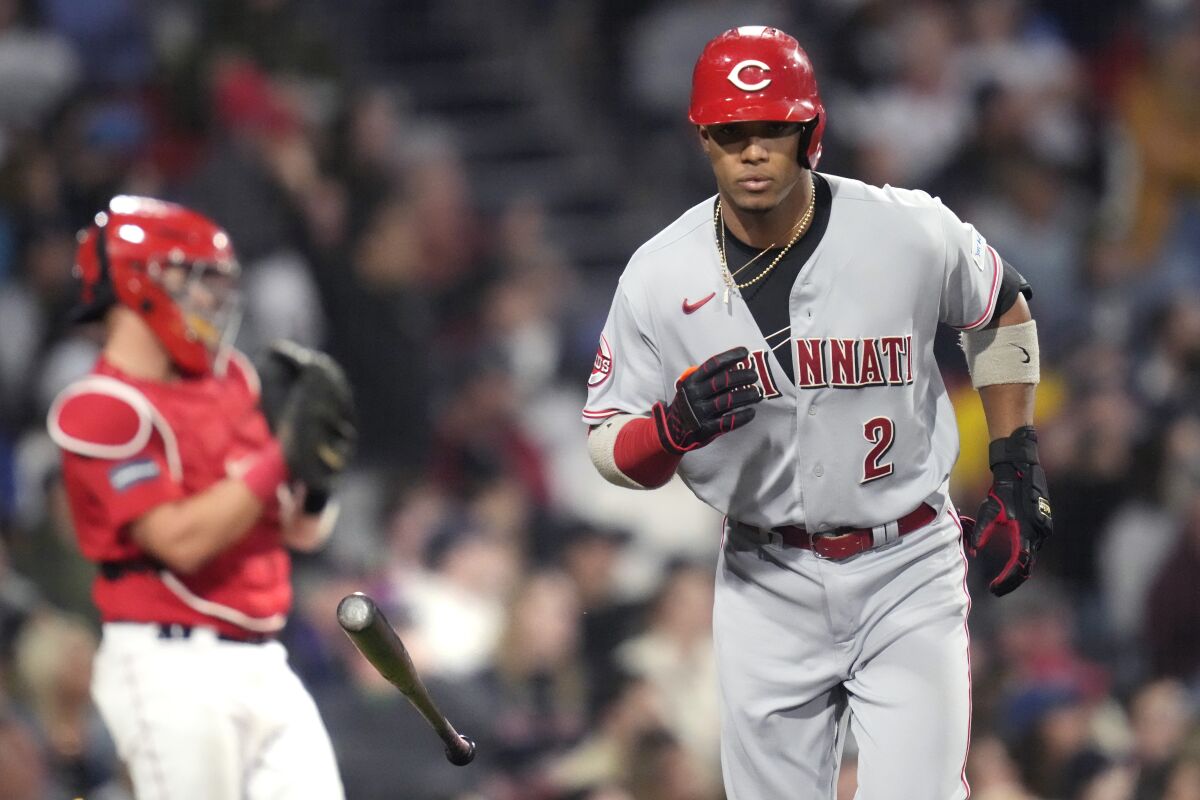 Pick #7: Cincinnati Reds TT o4.5 (-105 BetMGM)
The Cincinnati Reds are primed to light up the scoreboard against the Boston Red Sox tonight, with their scorching hot bats and favorable matchup against a lefty pitcher.
The Cincinnati Reds have been tearing it up lately, putting up some serious numbers on the scoreboard. In 7 of their last 9 games, they've scored 5 or more runs, making them a formidable force to be reckoned with. And tonight, they're taking on the Boston Red Sox at Fenway Park, a hitter's paradise that's sure to play into their strengths.
But it's not just the park that's giving the Reds an edge tonight. They're also squaring off against left-handed pitcher James Paxton, and let me tell you, when it comes to facing southpaws, this Cincinnati lineup is no joke. Over the past month, they've ranked 10th in OPS against LHPs with a solid .805. And it doesn't stop there - they rank 8th in wRAA, 7th in SLG with a .406, and 6th in BABIP with a .358 against lefties. These guys know how to bring the heat when a lefty is on the mound, and it's going to be a major factor in tonight's game.
Meanwhile, Paxton is coming off a rough outing against the LA Angels, where he coughed up 5 earned runs in just 3 innings, including 2 homers. And let's be real, the Angels aren't even in the same league as the Reds when it comes to hitting lefties. So if Paxton struggled against the Angels, what's he going to do against this red-hot Cincinnati lineup?
With the over/under for this game set at 10, it's clear that the oddsmakers are expecting some runs to be scored. And when you consider the Reds' recent offensive surge, their prowess against lefties, and the hitter-friendly confines of Fenway Park, it's not hard to see why. This game has all the makings of a high-scoring affair, and I wouldn't be surprised to see the Reds put up 5 or more runs tonight.
But don't just take my word for it. Look at the numbers. The Reds' recent success isn't a fluke - they've been consistently producing at the plate, putting up impressive stats against left-handed pitching. And with Paxton taking the mound for the Red Sox, it's a recipe for success for Cincinnati.
So for all you betting enthusiasts out there, take note: the Cincinnati Reds are a team to watch tonight. Their bats have been on fire, they're facing a lefty they can feast on, and they're playing in a ballpark that's going to help their cause. Keep an eye on that 4.5 runs line, because the Reds have the tools and the talent to make it happen.
The Cincinnati Reds are a force to be reckoned with when it comes to facing left-handed pitchers, and tonight's matchup against the Boston Red Sox is the perfect storm for them to continue their offensive onslaught. With their track record and the favorable conditions at Fenway Park, don't be surprised if the Reds go over 4.5 runs tonight and continue their hot streak on the road. So, buckle up, folks, because we're in for a wild ride at Fenway!