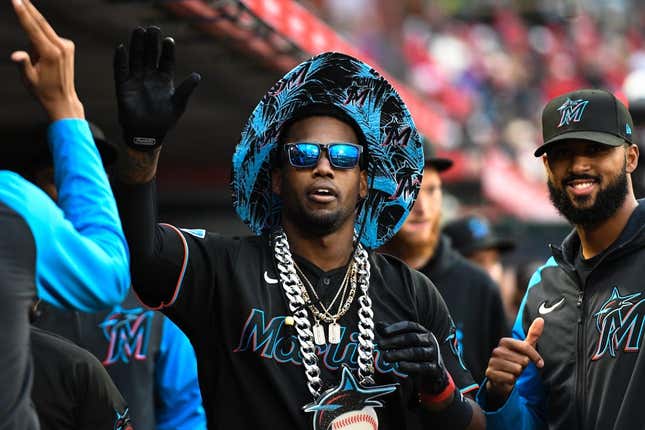 Tonight's Miami Marlins vs. San Diego Padres game is shaping up to be a home run showcase for Marlins' star Jorge Soler, and here's why you should bet on him hitting one out of the park.
If you haven't been paying attention to the Miami Marlins this season, it's time to wake up and take notice of the force that is Jorge Soler. With 17 homers in 52 games so far, Soler is currently tied for second in the major leagues, and his recent hot streak makes him a prime target for those looking to cash in on the over for his home run line of 0.5.
In his last eight games, Soler has hit a home run in six of them, including a stretch of five straight that only ended last game. He's been on fire lately, and there's no reason to think he won't continue that trend tonight against the San Diego Padres. Soler's season batting - home run average is 0.33, but over the last 10 games, he's been averaging 0.6, and in the last five, he's been crushing it at 0.8. Talk about heating up at the right time.
Jorge Soler Homerun +300 (opt-in for Dinger Tuesday on FanDuel)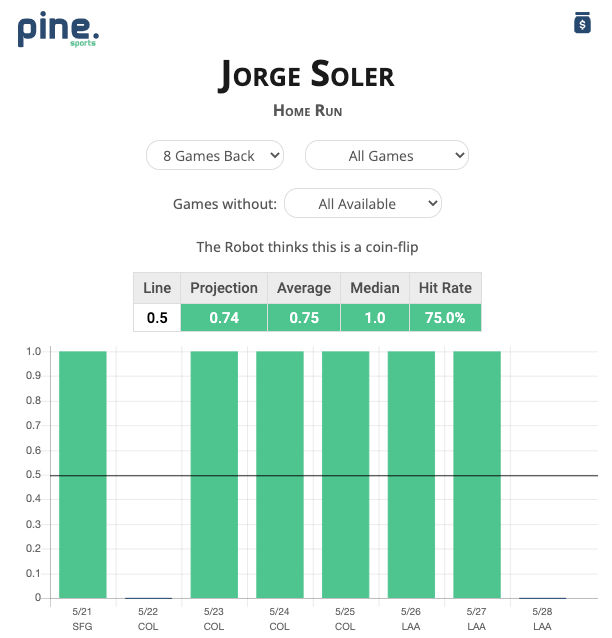 Now, some may argue that Soler's home stats are slightly lower than his road numbers, with a 0.29 batting - home run average at home compared to 0.36 on the road. However, the Marlins' recent home success, with a 14-11 record at home, should provide Soler with the confidence and support he needs to keep his hot streak alive.
Let's also take a look at the pitching matchup for tonight's game. The Padres are sending out lefty Ryan Weathers, who's currently sitting at a 1-3 record with a 3.94 ERA. Weathers has faced the Marlins twice in his career, with a 0-1 record and a 6.23 ERA in those starts. He's also pitched just four scoreless innings in his only start at Miami. With Soler's recent uptick in home run hitting, this matchup seems to favor the Marlins slugger.
The Marlins' confidence in Soler is evident, with first baseman Garrett Cooper saying, "He's like Barry Bonds right now. If I were a betting man, I'd be putting bets on this guy." If that doesn't get you fired up to bet on Soler hitting a homer tonight, I don't know what will.
On the other side of the diamond, the Padres are dealing with some injury issues, with Manny Machado on the injured list due to a fractured right hand and Juan Soto dealing with a tight back. While the Padres have a higher payroll and some big names, they're currently struggling with a 24-29 record and a 12-14 record on the road. It's clear that the high-priced Padres are not playing up to expectations, and this could be another factor in Soler's favor tonight.
Jorge Soler's recent hot streak, coupled with a favorable pitching matchup against Ryan Weathers and the Padres' current struggles, make him a prime candidate to hit a home run tonight. Betting the over on Soler's home run line of 0.5 seems like a smart play, as he's been trending up in the last 10 games and especially in the last five.
So, if you're looking for an exciting bet to make for tonight's Marlins vs. Padres game, look no further than Jorge Soler's home run line. Get ready for a blast of Soler power at the ballpark tonight.