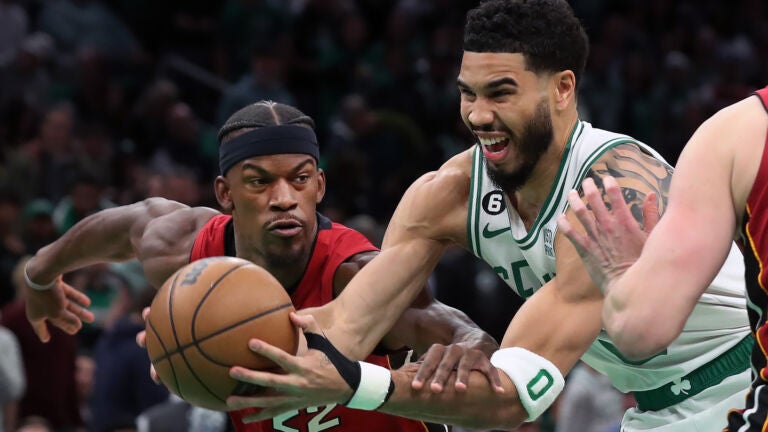 Jimmy Butler is set to surpass the 1.5 steals line in the upcoming Game 7 against Boston, showcasing his defensive prowess on the road. 
As the Miami Heat gear up for an intense win or go home Game 7 against the Boston Celtics, all eyes are on Jimmy Butler and his ability to impact the game defensively. With a strong performance on the road expected, it's time to dig into the numbers and see why betting on Butler's over 1.5 steals is a solid choice for those looking to ride the wave of his defensive capabilities.
First and foremost, let's take a look at Butler's overall steals average this season, which stands at an impressive 1.87 steals per game. When breaking it down by home and away games, there's a clear distinction between the two: Butler averages 1.65 steals at home, while on the road, he has a very remarkable 2.1 steals per game.
When looking at more recent games, his average steals have been increasing, with 2.0 steals over the last 20 games and 2.1 steals over the last 10 games. In 8 playoff road games this season, Jimmy Buckets has gone over 1.5 steals in all 8 games and is averaging a whopping 3 steals a game! This road game prowess is exactly what Miami needs in what is arguably the biggest game in Heat playoff history. 
One significant factor to consider is Butler's performance against the Celtics this season. In eight games against Boston, he has averaged 2.12 steals per game, showcasing his ability to disrupt the Celtics' offense and make an impact on the defensive end. Given the incredibly high stakes of Game 7, it's likely that Butler will be locked in and ready to cause havoc on the defensive end, further supporting the case for betting on the over for his steals in this game 7 matchup.
The numbers and trends surrounding Jimmy Butler's steals performance this season, particularly on the road and against the Celtics, makes a very strong case for betting on the over 1.5 steals. Butler's defensive capabilities make for a compelling argument that he's more than ready to surpass the 1.5 steals threshold in this crucial matchup. As the Heat look to avoid being the first team in NBA history to lose a playoff series after leading 3-0, keep an eye on Butler's defensive impact and get ready for HIMMY to steal the show (pun intended) in Boston. Let's lock it in and CASH OUT!
Pick: Jimmy Butler Over 1.5 Steals (-160)
JP👊🏾🤑