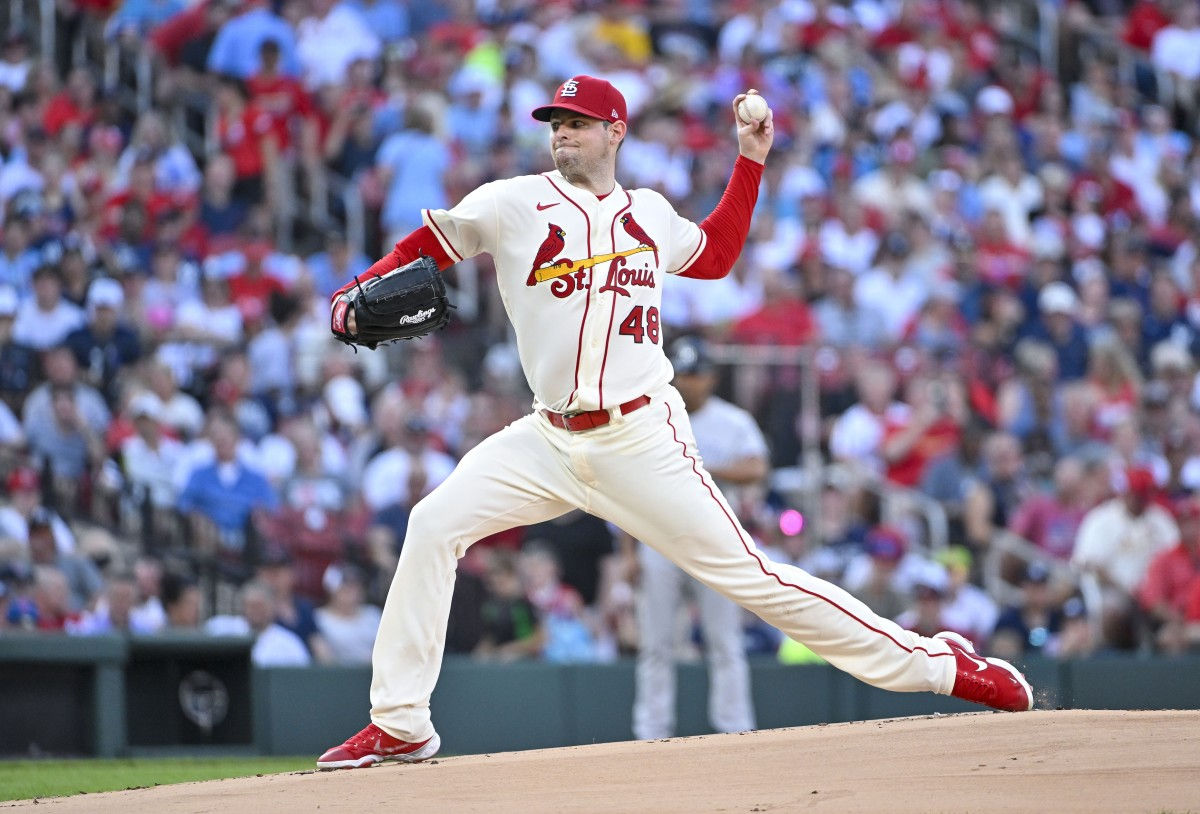 1U Jordan Montgomery (STL) over 16.5 outs recorded (-117) available at Caesars sportsbook at time of publishing. Playable to -130 odds. 
Jordan Montgomery has struggled in his last 3 outings, failing to eclipse this 16.5 outs mark in any of those contests. Despite his poor play of late, he draws an extremely favorable bounce back spot against a Cleveland Guardians team that struggles to hit left-handed pitching. The left-hander was acquired from the Yankees last season for Harrison Bader. St. Louis won each of his first 7 starts with the team and Montgomery allowed only 1 earned run in his first 4 starts with the franchise (25.2 IP.) This season has been less dominant, but there are still aspects of his game worth backing. 
Montgomery gets ahead early in counts with a 66.3% first pitch strike rate. His 50.9% zone rate is the highest mark of his career, and he isn't nibbling with his 3.78 pitches per PA ranking 72nd percentile. A 6.5% BB% is in line with his career-long 6.7% mark and ranks 70th percentile this season. He doesn't strike out many batters, but with an outs prop that is fine as strikeouts drive up the pitch count. Montgomery is more than willing to pitch to contact and attempt to generate ground balls and easy outs for his defense. His sinker, curveball, and changeup all work down in the zone and help him induce weak contact. Montgomery uses his sinker 40.9% of the time with his curveball (23%), changeup (21.7%, and 4-seam fastball (13.7%) filling out the rest of his repertoire. In terms of RV/100 this season Cleveland ranks 21st vs the sinker, 28th vs the changeup, and 30th against both the curveball and 4-seamer. 
The Guardians' numbers against left-handed pitching are not a pretty site. They have the 4th lowest K% to LHP this season due to their quality contact skills at the plate, but they lack the necessary power to do any real damage. Cleveland ranks just 29th in wOBA, 30th in ISO, and have a wRC+ of 75. They hit into the 5th highest ground ball rate while hitting into soft contact at the 8th highest rate. Cleveland averages 3.90 pitches per plate appearance which ranks just below league average. 5 of the last 7 LHSP to face Cleveland have exceeded this 16.5 line with Matthew Liberatore and Reid Detmers each falling short after exactly 5 innings. 
The Cardinals have not had a day off since May 11th. This will be their 17th consecutive day with a game and with games on Monday and Tuesday as well, they would love to see a quality start from their southpaw. St. Louis has helped their pitchers out a bit by moving to a 6-man rotation for the time being, giving Montgomery 5 full days of rest since his last outing. Monty has reached 96 or more pitches 4 times this season while touching the century mark twice. Before his recent poor stretch Montgomery had pitched 6 or more innings in 5 of 6 starts, and in this matchup, I look for him to get back on track. Wind will also be blowing in at Progressive Field which could lead to a deadened fly ball or two as well.