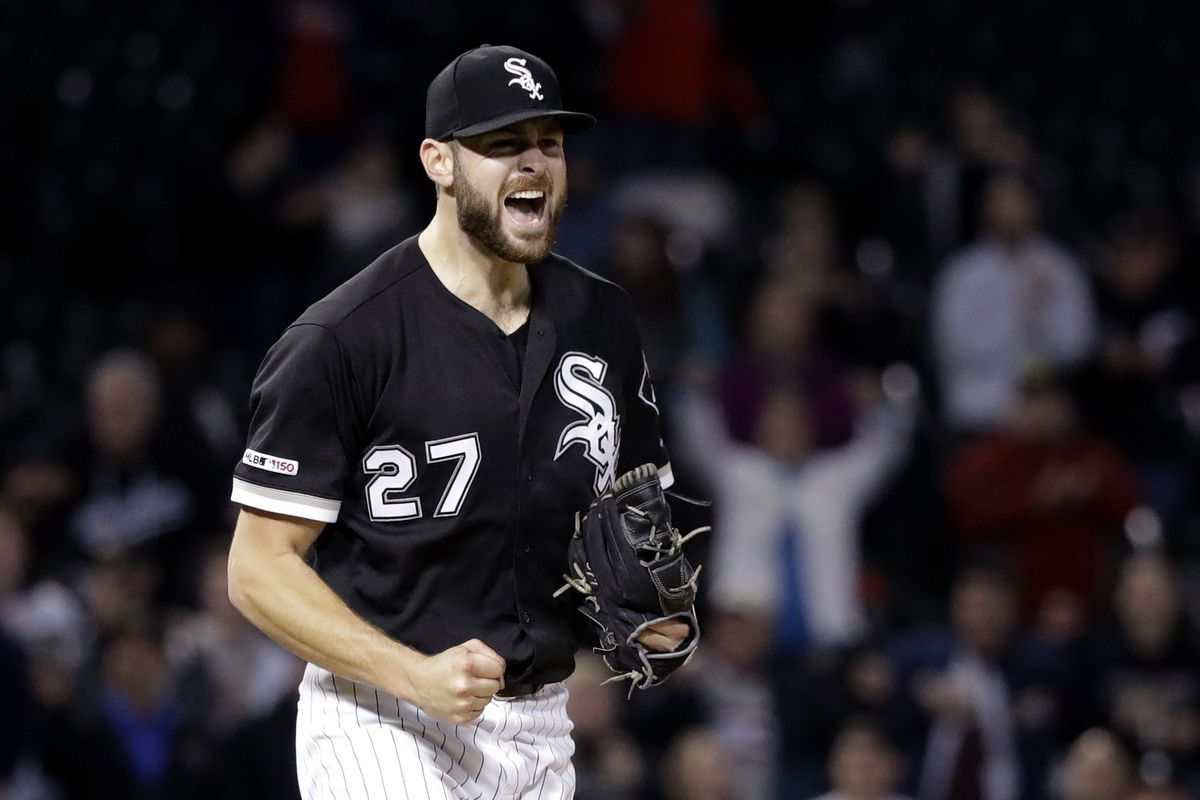 1U Lucas Giolito (CWS) over 5.5 strikeouts (-110) available at DraftKings and BetMGM sportsbooks at time of publishing. Still available at playable at -130 odds or better.
Sometimes you have to give people a 2nd chance. Lucas Giolito crushed my hopes and dreams on April 7th when I took him on this same line against Pittsburgh. The Pirates demolished the right-hander for his worst start of the season as he allowed 12 hits and 7 earned runs to only 3 strikeouts across 4 innings of work. He allowed 4 earned runs in starts against Tampa Bay and Houston, but in his other 6 starts this season Giolito has allowed 2 or fewer. Each of his last 8 starts have lasted at least 6 innings, and today his outs prop is either at 17.5 with significant juice to over or 18.5 depending on the book. 95.4 pitches and 24.6 batters faced per start are workhorse level marks in today's game and Giolito's numbers are more than worthy of backing on a 5.5 line in this matchup.
While not at his 17.3% swinging strike rate he held in 2020, Giolito's 12.2% rate is exactly in line with last season's mark when he averaged 9.85 K/9. This season his K/9 is down to 9.05 but it is worth noting that 4 of his 10 starts already have been rematch matchups against a team he has already faced. The right-hander has made 2 starts against each of Houston, Minnesota, Kansas City, and Tampa Bay. Today's matchup against the Detroit Tigers is one that Giolito should have success in. Giolito will throw an occasional curveball to a lefty, but primarily uses a 3-pitch mix with his 4-seamer, changeup, and slider. When on his game, he is mixing these pitches in any count and keeping batters off balance due to his very good tunneling and command. Giolito is even willing to throw an elevated changeup which is typically a no-no for pitchers, but he throws his 4-seam and change from the same tunnel, and that combination of those pitches being able to reach that same part of the zone is unique. This allows his 92.9 MPH fastball to generate a put away rate of 22.1%.
Each of Giolito's pitches generate a put away rate of 20% or higher while his secondary pitches (slider and changeup) induce a 33.9% and 30.8% whiff rate respectively. He draws a Tigers team tonight that ranks 26th against the 4-seamer, 30th against the changeup, and 14th against the slider in RV/100 this season. Zack McKinstry and Javier Baez have improved plate discipline against right-handed pitching this season at the top of the order and are the now the toughest in the lineup to strikeout. Even their improvements are not full-proof, and last season they had K% of 28.5 and 26.2% against right-handers. Their entire lineup is filled with potential strikeout candidates, and Giolito has a matching 24% K% against either handedness this season. He attacks the zone, only issuing walks a career-best 4.9% of the time, and with Detroit's high chase rate I don't envision many walks today. Active Tiger bats have a 28.3% K% against Giolito in 180 combined PA. The right-hander is over this mark in 7/10 games this season and the Tigers have allowed Zach Greinke (5), Mike Mayers (8), and Shane Bieber (9) to recently soar past their respective lines. We don't yet have home plate umpire info, but I am willing to invest in this matchup before knowing so. Best of luck if tailing along!
*If you are placing this bet at FanDuel, save a step by clicking the link below. It will put Lucas Giolito O5.5 strikeouts directly into your betslip on the app!*