Get ready for Tyler Seguin to light up tonight's game against the Vegas Golden Knights with a barrage of shots on goal, surpassing the 2.5 line.
Hockey fans, we've got a juicy angle for you to consider in tonight's matchup between the Dallas Stars and the Vegas Golden Knights. Our focus: Tyler Seguin and his shots on goal (SOG) performance. With Seguin having a history of going all out against Vegas and recent trends in his favor, it's time to ride the wave and pick the over for his 2.5 shots on goal line tonight. 
In his last 9 games whenever Seguin has gone under 2.5 shots on goal, the following game he has had 3+ every single time. That's a pattern we can't ignore and hope continues tonight – see the chart below!  
**Tyler Seguin over 2.5 shots on goal**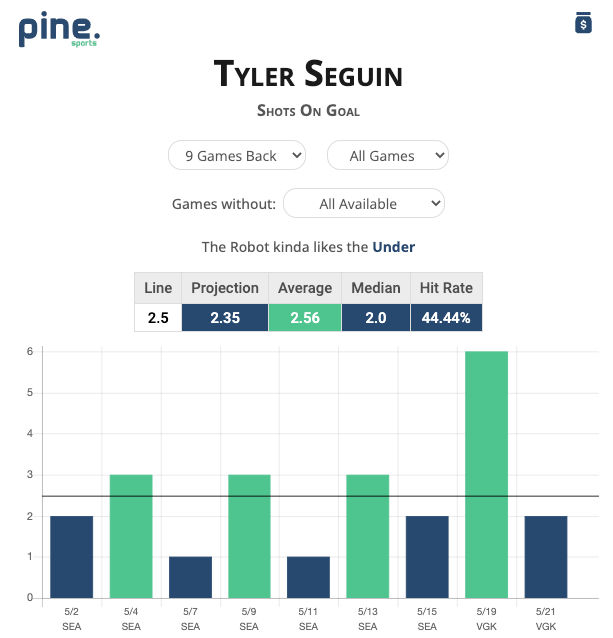 Now, let's talk about his history against the Vegas Golden Knights. In five meetings this season, Seguin has been an absolute beast, averaging a whopping 5.2 shots on goal per game. That's right, 5.2! This guy clearly loves playing against Vegas and it shows in his performance. Not only has he gone over the 2.5 SOG line in 12 of 16 games against them, but he's also been over in 6 of his last 9 home games. 
So why is Tyler Seguin such a force to be reckoned with when it comes to shots on goal against Vegas? It could be a combination of factors: a favorable matchup, a little extra motivation, or simply a case of him being "in the zone" when facing off against them. Whatever the reason, the numbers don't lie, and with a track record like that, it's hard not to have confidence in Seguin's ability to put on a show tonight.
Of course, there are no guarantees in sports (or sports betting), but when you see a trend as strong as this one, it's tough not to take notice. With Tyler Seguin's impressive SOG stats against the Vegas Golden Knights and his recent upward trend in shots on goal, we're feeling pretty confident in picking the over for his 2.5 shots on goal line tonight.
So, fellow sports bettors and hockey enthusiasts, do yourself a favor and don't miss out on the action tonight. Grab your favorite beverage, find a comfy spot on the couch, and get ready to cheer on Tyler Seguin as he looks to continue his shots on goal dominance against the Vegas Golden Knights. Trust the numbers, trust the trends, and let's cash in on Seguin's shot showdown.