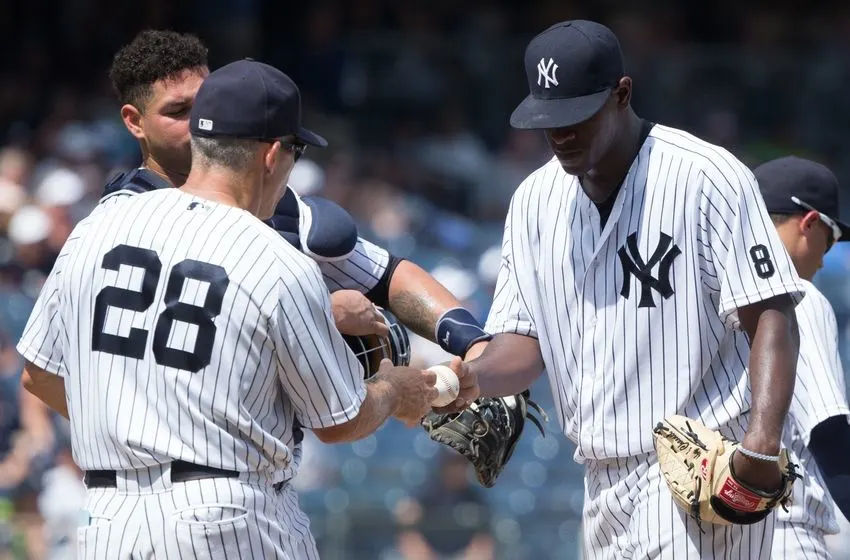 1U Luis Severino (NYY) under 5.5 strikeouts (-120) available at DraftKings and BetMGM sportsbooks at time of initial post to Twitter. Playable to -130 odds.
Luis Severino is a pitcher I like, and someone I will hopefully be betting on this season if he can remain healthy. Health is his major concern, however. The right-hander had a strained lat muscle in the final week of spring training. He was initially supposed to miss around 4 turns through the rotation, but here we are in late May, and he has yet to make his season debut. Severino hadn't thrown in game action until 2 recent rehab outings. On the 10th he threw 49 pitches to 12 batters, lasting 3.1 IP with 2 hits (1 HR), a walk, and 3 strikeouts against AAA Omaha. Then on the 16th he threw 58 pitches to 17 batters, again in 3.1 IP as he allowed 6 hits with 3 strikeouts. Reports are that Severino is expected to be limited to around 70-75 pitches if all things go well. Severino is displeased with his short leash, stating "I don't know if I can do much with 75." Even with his displeasure, it's clear New York has taken things slowly with Sevvy, and I would be shocked to see them push his workload more than expected.
Severino was held under this 5.5 mark in 9/19 regular season starts last season even despite no limitations. The Reds are admittedly not a strong target for unders given their 24.7% K% against right-handed pitching. They have bats in the order that are going to strikeout, but as a team they do a good job of working counts. Cincinnati ranks 6th in pitches per plate appearance this season and have the 3rd highest walk rate against right-handed pitching. Last season Severino averaged 4.04 pitches per PA which would have ranked tied for 14th among qualifying pitchers. While this also means they take a lot of looking strikes, the Reds have the 3rd lowest chase rate in baseball. Severino had already seen a decrease in his chase rate last season, ranking 23rd percentile and his lowest mark since 2016. His CSW% was also the lowest mark since 2016 and with another injury, there is a chance he doesn't begin the season even at those marks. 
THE BATx projects a 9.13 K/9 for Severino this season which would be even lower than last season's 9.88 mark, while other projection sources also envision another slight drop off. Cincinnati's largest strikeout threats are at the bottom of the order with Will Benson and Luke Maile, but given Severino's restrictions they may only face him once each, especially if the Reds are able to get to him at all. While Cincinnati's offense isn't the greatest, playing in Great American Ballpark can make any team look better than they actually are. With an expected short leash and shaky numbers from his rehab starts, I am willing to trust the Reds, fully recognizing he could get 6 strikeouts in limited time if he's on his game. Best of luck if tailing!