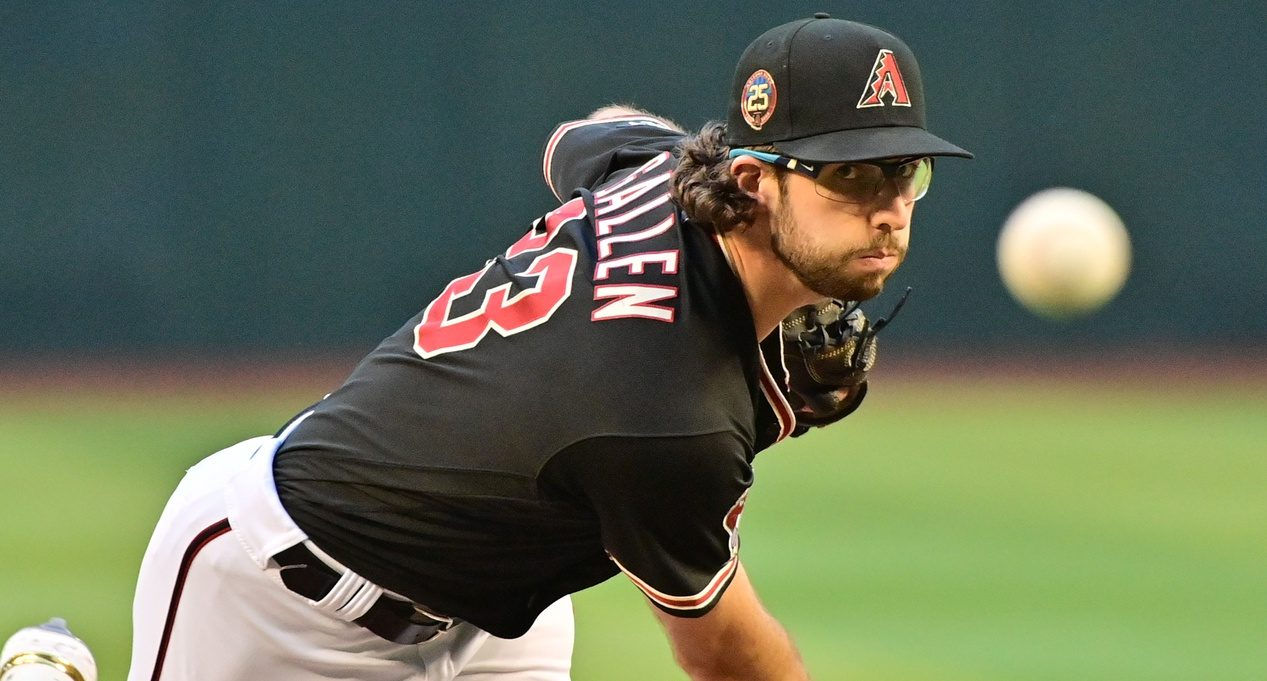 1U Zac Gallen over 6.5 strikeouts (-128) available at FanDuel sportsbook at time of initial post to Twitter. Still available for -130 odds at FanDuel and DraftKings, playable to -140 odds. 
This is a play I have been looking forward to for over a week, and when I saw his lines open across all books last night (except MGM) I had to pounce. It is hard to complement his game well enough for how he has been pitching this season. The 27-year-old right-hander is 6-1 with a 2.35 ERA, but his peripherals are even more impressive. His 1.78 FIP is even better and ranks best in all of baseball, while his 28.4% K-BB% is a result of a 13% swinging strike rate, 18% called strike rate, 31.2% chase rate, and 44.8% chase contact rate. What makes Gallen so unique is his ability to throw 4 plus pitches, in any count, against any handedness. His 4-pitch mix each possesses a whiff rate of at least 21.1% (4-seamer is of course the lowest), and a put away rate of at least 24.4%. 
His 4-seamer, curveball, and changeup are all pitches Pittsburgh has struggled against this month. The Pirates rank 30th, 25th, and 30th in run value/100 against those respective offerings in that timeframe. They have hit cutters well, but with Gallen already using that pitch less than his others and being a cerebral pitcher who knows his opponents' strengths/weaknesses, that is of no concern to me. Overall, against right-handed pitching this month the Pirates have been pathetic. They rank dead last with a 30.9% K%, while producing a wRC+ of only 44 and a league-low .234 wOBA. Their last 15 games overall have combined for 30 runs scored, and facing Gallen who has allowed only 6 earned runs in his last 47+ innings doesn't seem like the remedy they are looking for. 
Gallen has crushed opponents from either side of the plate this season, but he is especially lethal against left-handed bats. LHB have a .446 OPS against him this season with a .043 ISO, 3.1% BB%, 50% GB%, and 32% K%. The Pirates love to stack their lineup with left-handed bats against right-handers, and are likely to roll with 6 today. Josiah Gray (6), Zach Eflin (10), Chris Bassitt (5), Jose Berrios (7), Kyle Bradish (6), Tyler Wells (8), Kyle Gibson (5), and Michael Lorenzen (7) are the last 9 non-opener right-handed starting pitchers to face Pittsburgh. Their 81.3% zone contact rate this month is by far the worst in baseball. Gallen attacks the zone with 69.3% first pitch strikes, and I love this matchup for him to grab 7 or more strikeouts.
*If you are placing this bet at FanDuel, save a step by clicking the link below. It will put Zac Gallen O6.5 strikeouts directly into your betslip on the app!*