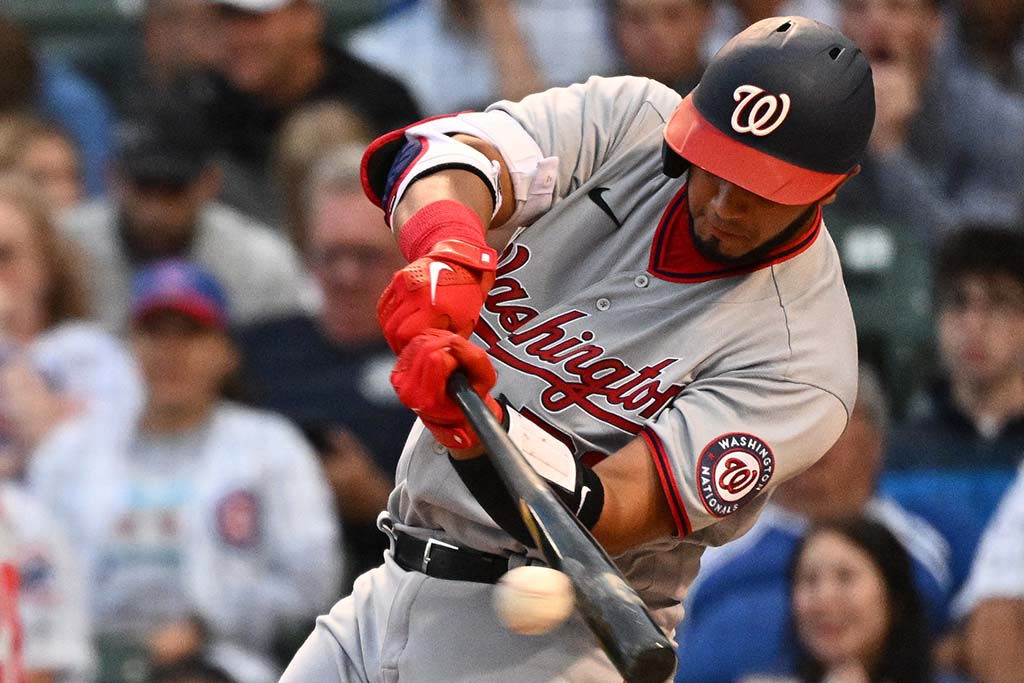 0.5U Keibert Ruiz (WAS) under 0.5 strikeouts (-120) odds available at DraftKings sportsbook at time of publishing. Playable to -130 odds.
This is a strange prop, and a prop type I have never publicly shared, but I see worthwhile value in Keibert Ruiz to not strikeout tonight against the Miami Marlins. Ruiz was part of the haul Washington received in turn for Trea Turner and Max Scherzer, and has filled in as the franchise catcher. While not an overly powerful bat, the switch-hitting catcher is one of the premier players in the game in terms of avoiding the strikeout. Ruiz is extremely aggressive, averaging the fewest pitches per plate appearance of any qualifying batter in MLB (3.25.) Not only is he aggressive with a first pitch swing rate 7.5% higher than league average, but he rarely misses, connecting on an absurd 94.7% zone contact rate. His 91.8% zone contact rate for his career ranks 12.7% higher than league average. He is willing to chase, but his chase contact rate of 75.9% sits 1.9% higher than his career average and 17.7% higher than league average.
Ruiz has a career-best 11.9% whiff rate this season which ranks 98th percentile. Overall, his 8.2% strikeout rate ranks 99th percentile and since the beginning of last season. Ruiz will face Jesus Luzardo today, who admittedly has good strikeout stuff, but is a left-handed pitcher. Since the beginning of last season Keibert has just a 7.6% K% against LHP in 145 PA. Ruiz has faced Luzardo 4 times, grabbing 2 hits and failing to strikeout in any of them. 5 of Keibert's 12 strikeouts have come against the curveball this season, and that pitch is the only one where Ruiz has a whiff rate higher than 16.5%. Well, Luzardo doesn't throw a curveball. Luzardo primarily strikes out batters with his mix of 4-seamers and sliders. Not only does Ruiz see those pitches well, but he has performed well against them with a .422 and .445 xwOBA against those respective pitches. Luzardo has seen a 5.4% drop in his strikeout rate overall from last season, and a 2.1% decrease in his CSW%. 
Dating back to the beginning of last season, Ruiz has gone without a strikeout in 99/146 (68%) games. This season he is without a K in 25/34 games including 20 of his last 24. Luzardo will not pitch the entire game, and we will have to survive against a reliever or 2, but Miami's bullpen ranks just 18th in K% this season. Ruiz has the benefit of being a switch-hitter with a low strikeout rate against either handedness, so while we don't know the exact matchup(s) in the later stages, we can feel confident in the percentages. Mark Carlson is generally neutral when it comes to calling balls and strikes as well.