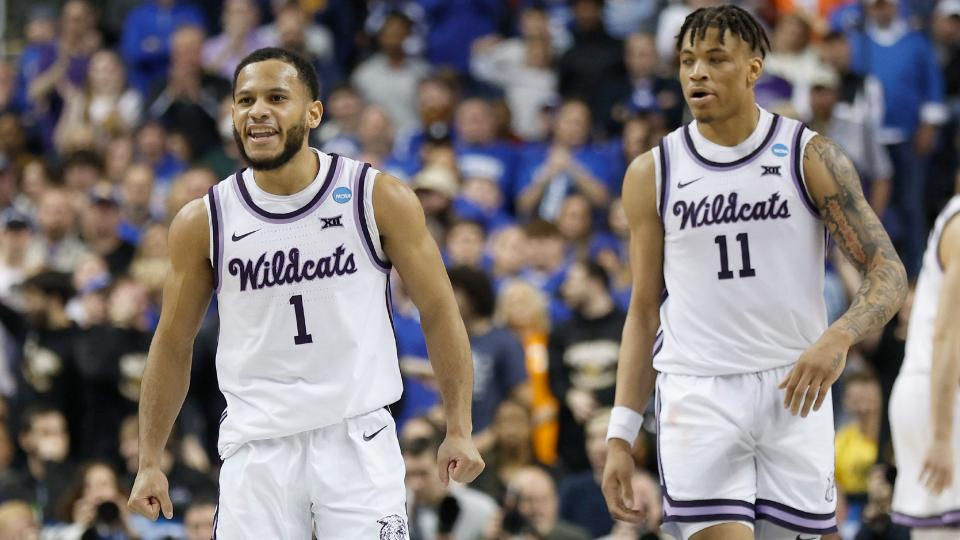 Pick #2: Kentucky vs Kansas State under 141.5 points (-110)
Get ready for a high-stakes battle between the Kentucky Wildcats and Kansas State Wildcats, as both teams fight for a spot in the Sweet 16 in this thrilling March Madness Round 2 game. 
Basketball lovers and betting enthusiasts, buckle up for a wild ride as the Kentucky Wildcats (22-11, 12-6 SEC) take on the Kansas State Wildcats (24-9, 11-7 Big 12) in a highly anticipated NCAA Tournament second-round matchup. Both teams have shown impressive performances so far, and it's time to break down the stats, key players, and trends that will shape this all-Wildcats showdown.
First off, let's talk about the underdog story of Kansas State. The Wildcats were predicted to finish last in the Big 12, but they defied expectations and secured a No. 3 seed in the NCAA Tournament. Led by the dynamic Markquis Nowell, who put up a stellar performance in their 77-65 win over Montana State with 17 points, 14 assists, and six rebounds, Kansas State's offense has been on fire. Nowell, a senior guard, has been the smallest player on the court, but his impact has been anything but small. With eight double-doubles under his belt this season, he's ready to bring the heat against Kentucky.
On the other hand, the Kentucky Wildcats had a solid season, placing them as the No. 6 seed in the tournament. They've been a force to be reckoned with, thanks to their strong offensive game and deep bench. Kentucky's path to Round 2 was a testament to their tenacity, and they're not looking to slow down anytime soon.
Now, let's dive into the betting trends for this matchup. Before yesterday, the total of under to over was 13 to 3, indicating that public betting has been leaning towards the under. However, with both teams boasting powerful offenses, a high-scoring game could be on the horizon. As the game approaches, keep an eye on the betting lines and any shifts in public opinion.
When it comes to the head-to-head battle between these two teams, Kentucky may have the edge in terms of historical performance. The last time these Wildcats faced off in the NCAA Tournament, back in 2018, Kansas State emerged victorious. However, past performance doesn't always guarantee future results, and both teams have evolved since their last encounter.
One key factor to watch in this matchup is the battle of the boards. Both Kentucky and Kansas State have strong rebounding teams, and securing those rebounds will be crucial in determining the outcome of the game. Additionally, keep an eye on turnovers – minimizing mistakes will be essential for both teams as they navigate the high-pressure environment of March Madness.
This Round 2 game between the Kentucky Wildcats and Kansas State Wildcats is shaping up to be an epic showdown. With both teams hungry for a spot in the Sweet 16 and boasting impressive offensive firepower, bettors and fans alike are in for a treat. While the under has been a popular bet in recent games, don't be surprised if this clash of the Wildcats turns into a high-scoring affair. So, gather your squad, place your bets, and get ready for a thrilling game that'll keep you on the edge of your seat.