Welcome to the future, Pine-Sports is excited to announce a new AI-based writing bot equipping the data in Explore with the knowledge of how to analyze it, and the ability to write coherent articles around that selection. This article is a How To for using this bot, along with things to look out for and how to report any issues that you may encounter. If you are new to Pine-Sports, make sure to sign up for a free account and use code: DISCORD to gain access to all of the site's features. 

Let's get started! Once you are logged into Pine, and you know what pick you want to write about, go to the home page and click on 'Publish Your Plays & Analysis'. You can alternatively look for the pencil icon in the top right corner of your screen.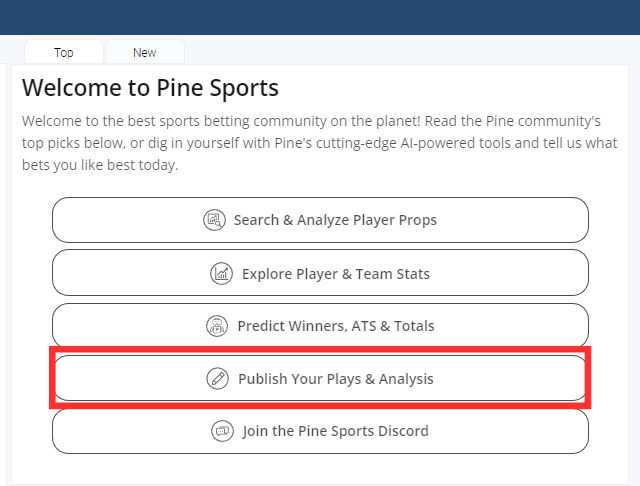 Now you will be in the story creator, and if you look in the bottom right hand corner is our new magic button, "Ask the Robot". Click on Ask the Robot to open up the chat screen.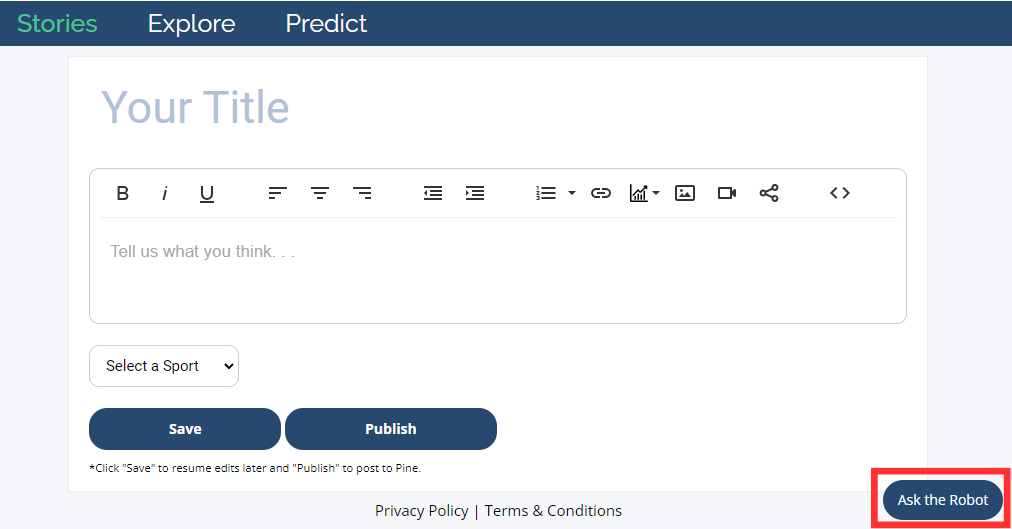 Once you click 'Ask the Robot', a chat window will open up with the AI bot who will start the conversation asking what you are writing about.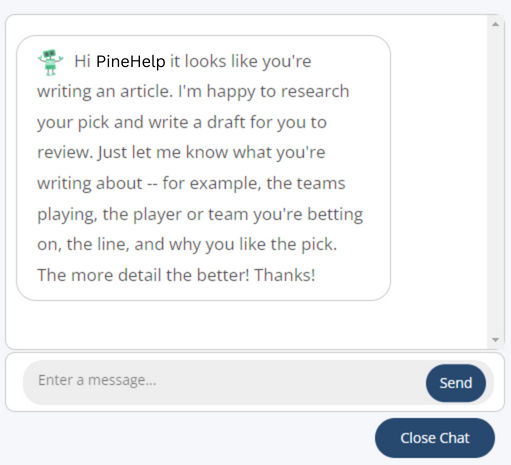 It's this input that will determine the direction for your article. The more specific you can/want to be here, the better, and the more information you give it, the better. Here is an example input below. Notice details are included for just general game information, for instance that it is the Detroit Red Wings vs Washington Capitals. You want to be sure and tell it exactly what you are considering betting on, for instance "Detroit to cover a spread of +1.5". Some, but not much, data was included in this input, it's good practice to at least tell it why you are leaning in the direction that you are.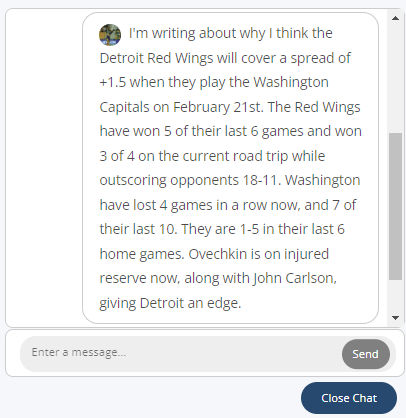 Lastly, if the robot needs any more information it will ask you. For instance, it might ask if it's a moneyline, spread, game total, or player prop bet if you forget to include that or if it is unclear. Once it is satisfied, the robot will get to work digging through the Pine data base for any potentially relevant information.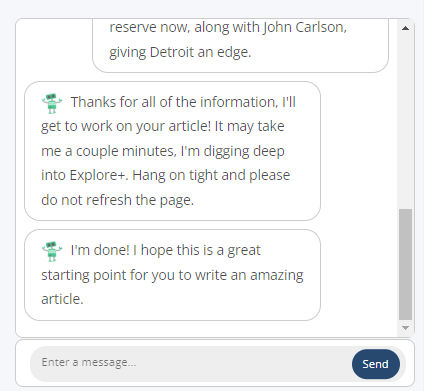 Do not refresh your screen during this process or you will have to start over. Give the robot a couple minutes to do it's research and write the article. Once it is done, the story creator will automatically populate with a relevant title, a relevant image, and an entire article based on the given play.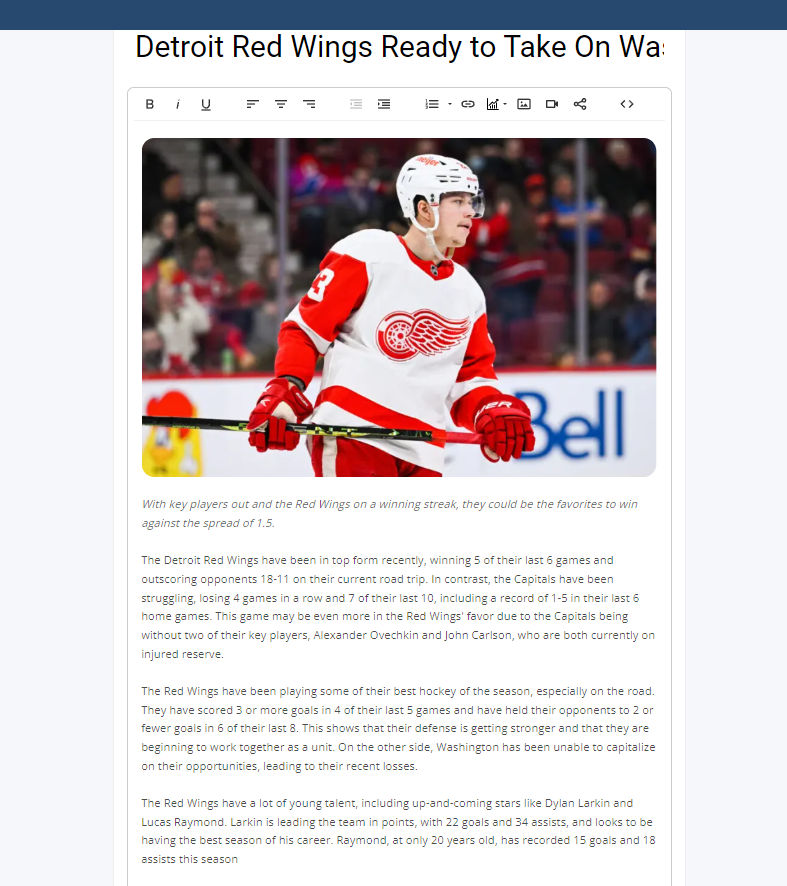 You'll notice that it starts off using a lot of the information that I provided it, but then it pulls out details of how many goals Red Wings have scored and allowed lately, as well as player data on a couple of key Red Wings players. 
It is very important to proof read your articles before posting to verify, and when uncertain double check things. Every now and then you may need to correct small details. You might also want to add to it or, if it sounds redundant, delete a section. Once you are satisfied, you can go down to the bottom and select the sport in the dropdown menu, and click either Save or Publish. Save will only put the article in your Drafts, which can be seen by going to the top right corner of your screen. Publish will post the article on the Pine-Sports website for other users to read, comment, and react to. 

If you have any questions or issues, or notice any major errors, please go to the Pine Discord and let us know in the #pine-support section.