Pick 2: Cincinnati Bengals touchdowns over 2.5 (-130)
I hate this one.  I really do.  To the point that I'm not even betting it because I don't want to root for it to happen.  But, there's so much uncertainty around this game that it's the line I'm most comfortable posting.

The Chiefs defense has talked a big game this week, especially after all the chirping coming out of Cinci.  Chris Jones claims he's locked in.  Willie Gay said the Bengals offense is nothing specials(not sure about that one).  Justin Reed said everyone in KC saw the "Burrowhead" clips and will do their talking on the field.  I hope this is an epic game, the KC D steps up, and my Chiefs come out on top.  But, Mahomes has a high ankle sprain despite no injury designation on the final reports.  Kelce also got added to the injury report on Friday, having reaggravated a back injury and didn't talk to the press.  If anyone thinks that's a total smoke screen, the Chiefs activated back-up tight end Jody Fortson from IR today.  He's been out the past 4 weeks.  I think there is a 100% chance that both Kelce and Mahomes play.  But if either of them aren't 100%, the KC offense might struggle to stay on the field.  That means they won't be able keep the Bengals offense off of it.  Unfortunately, it looks like neither of them are full strength.
To add to my pessimism, KC had one of the worst redone defenses in the league all season, allowing TDs on 67.24% of red zone possessions.  Only the Colts were worse.  When the Chiefs had bad defenses in Mahomes earlier years, they bent but didn't break to win games.  This year they break, and you better believe Cinci is going to move the ball enough to see the red zone, if they don't score from outside of it.  I think the only way this over doesn't hit is if Kansas City forces some turnovers.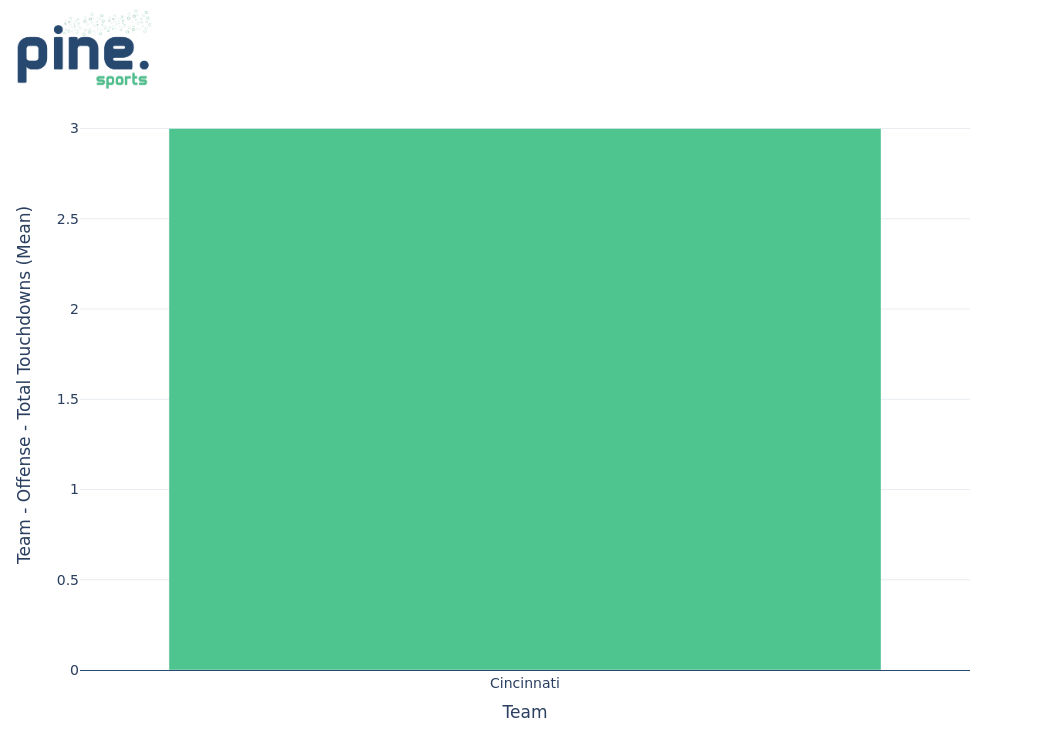 The only Pine graph I could pull for this was Cinci's mean TDs for the season(3), which technically does support the pick even if it's not much to look at.  To close out, in the past three match-ups between Burrows and Mahomes, Cinci has seen the end zone 3-2-4 times.  They are going over the line 66% of the time in this match-up, with an average that is over the line as well.  I'm not doing it because I don't want to root against KC but, you might want to lock it in.