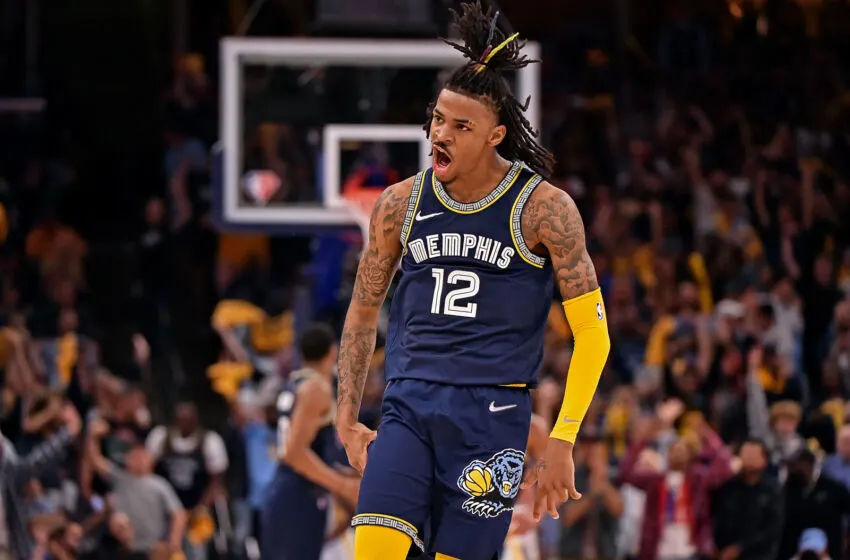 1U Ja Morant (MEM) over 28.5 points (-110) available at BetMGM Sportsbook at time of publishing. Playable to -125 odds. 
The last time I wrote about Ja Morant he let me down in a massive way. The ultra-talented point guard had a horrid shooting night, finishing just 9/29 from the field against the Lakers and scoring only 22 points. While the result was not what I anticipated, 29 shot attempts is more than noteworthy and had me intrigued for his next advantageous matchup. After a tougher matchup with the Suns, Morant was rested on the 2nd leg of a back-to-back with ankle soreness but is not on the injury report tonight after 3 days off. Tonight, the Grizzlies will travel to face the Warriors on the road and Morant seemingly always is up for the challenge when facing the reigning champions. Ja has faced this team 7 times in the last 2 seasons, including the playoffs, eclipsing this number 6 times and averaging 33 PPG. That includes a 36-point performance against them already this season where he left some points on the table by shooting just 2/10 from deep and 4/7 from the foul line. 
Over the last 30 games the Warriors allow the 5th most PPG to opposing PG at 25.93 per game. Since Morant scored 36 on them last month, Lillard (34), Dejounte (25), Garland (31), and Kyrie (38) have torched them while Washington (21), Fultz and Anthony (16 each), Jones (21), White (16), Morris (17), and Smart (18) have all easily eclipsed their season averages. Golden State ranks just 38th percentile defending PnR ball-handlers while allowing the 10th most PPG to them. Morant leads the NBA in possessions and PPG as a ball-handler out of that action. They allow the 8th most FGA within the restricted area where Morant ranks 5th in the NBA in FGA/game while ranking 1st among guards. The Warriors also happen to allow 3.3 more FGA from the non-restricted area of the paint than the next closest team while also allowing opponents to shoot the 2nd highest mark in the NBA. Ja shoots the 2nd most FGA from that area behind only Bam Adebayo and in the first matchup he recorded 14 (!!!) of his 29 shots from that spot on the court. Now Golden State has gone small with Draymond Green at the 5 and while he is an elite defender the rim protection is lacking for Golden State. Ja ranks 3rd in the NBA in drives per game while drawing fouls on 10.6% of those drives. He averages a career-best 8.3 FTA per game and Golden State allows the most FTA per game of any team.
Memphis and Golden State are the top 2 teams in the NBA in pace of play and that is reflected by the 245.5-point total. We should have an up-pace back-and-forth affair as both teams love to run and get off a large number of shots. When these teams faced off earlier this season Golden State was not at full strength but still defeated Memphis on their home floor in embarrassing fashion. Memphis is known for their trash-talking and I'm sure will be fired up at a chance for revenge tonight. The game has a spread of only 3.5 points which implies a closely fought battle and Morant should see his full complement of minutes after being well-rested from his game off. While his main screen-setter in Steven Adams is out tonight, Morant has scored 30 or more points in each of his last 4 games without the big man in the middle including 30- and 33-point games this season. Overall, I love betting on talent in the big games and with these teams budding rivalry I expect Morant and company to be fired up and competitive on the road tonight.